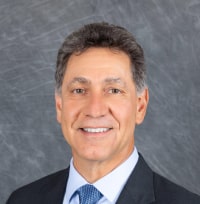 Nicholas A. Lygizos, M.D.
Dr. Lygizos was born and raised in the ethnically diverse Downriver area of Detroit. He is a first generation Greek-American. He attended the University of Michigan in Ann Arbor, receiving his Bachelor of Science degree in biomedical sciences in 1979, and his Doctor of Medicine in 1981. He then came to Chicago for his residency in Otolaryngology-Head and Neck Surgery at the University of Illinois completed in 1986.
Dr. Lygizos is board certified in Otolaryngology-Head and Neck Surgery. He is a Fellow of the American Academy of Otolaryngology-Head and Neck Surgery, as well as the American College of Surgeons. In addition to his clinical practice, Dr. Lygizos has maintained a teaching position at the University of Illinois as Clinical Assistant Professor, and is actively engaged in teaching surgery of the ears, nose, and throat, and head and neck cancer surgery, to the residents at Stroger Hospital of Cook County (the "new" Cook County Hospital). Dr. Lygizos currently serves on multiple physician advisory boards and was named as one of Chicago's "Top Doctors" by the Castle Connolly Medical Guide.
He enjoys treating children and adults within the full scope of ENT problems, including diseases of the tonsils and adenoids, chronic ear infections, hearing loss and balance disorders, sinus infections requiring surgery, airway obstruction of the nose and throat, including obstructive sleep apnea, and the treatment of tumors of the head and neck.
Patient Reviews